Denago Commute Model 1 Step-thru eBike
write a review
Regular price
$1,799.00
Sale price
$1,799.00
Unit price
per
Sale
Sold out
Size Chart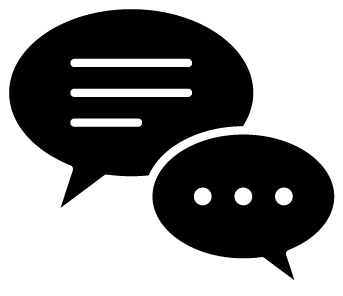 The Denago Commute Model 1 is an urban eBike with a step-thru frame with a low standover height - easy to mount and dismount for shorter riders or those with poor flexibility or injuries. Commute Model 1 is full-featured with a suspension fork and seatpost, integrated headlight, plus included fenders, rear rack, and kickstand. Stealthy, sleek battery integrated with the down tube.

Commute Model 1 was named "best new commuter eBike" by the editors of Bicycling.com and appears on their list of "18 best electric bikes you can buy right now."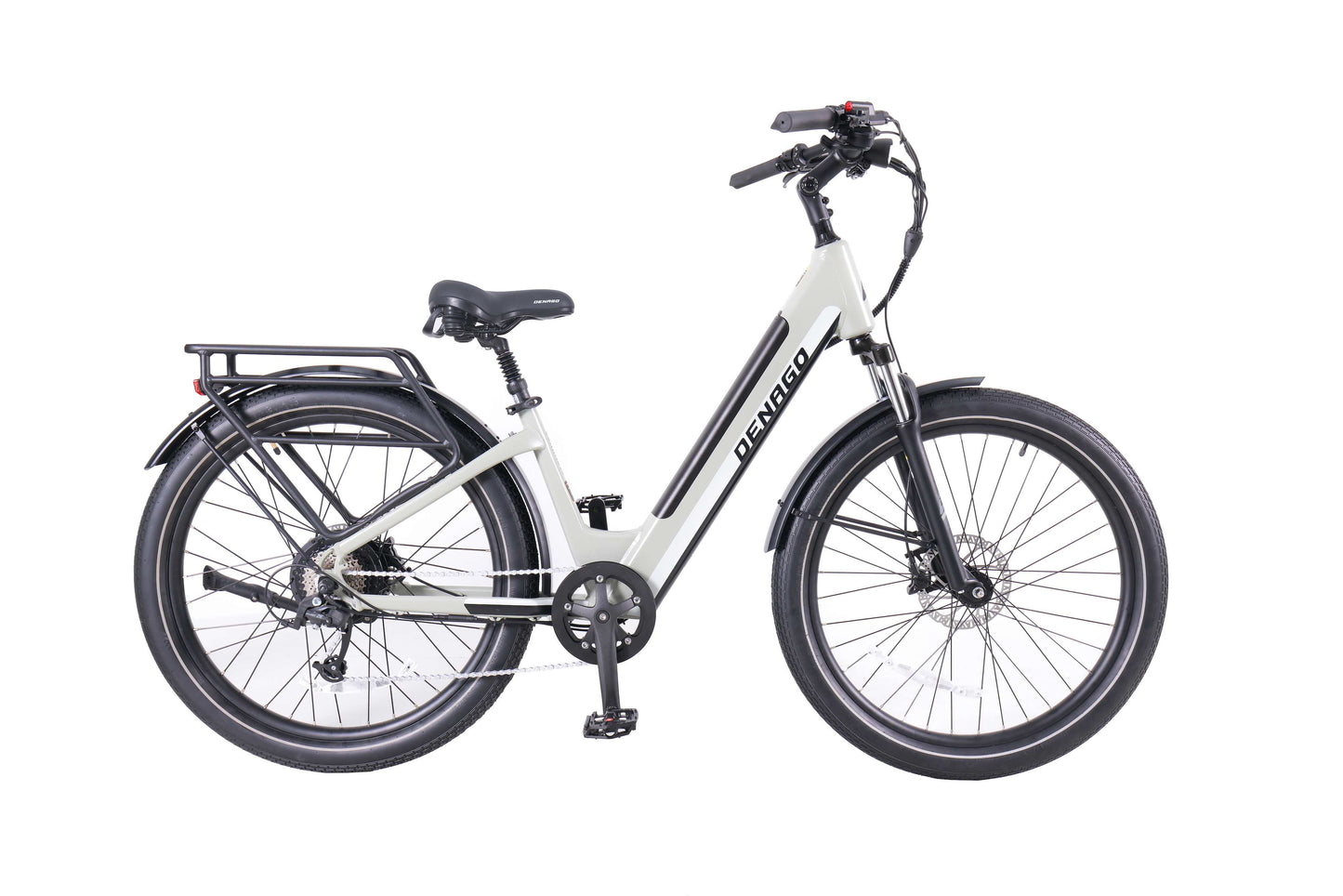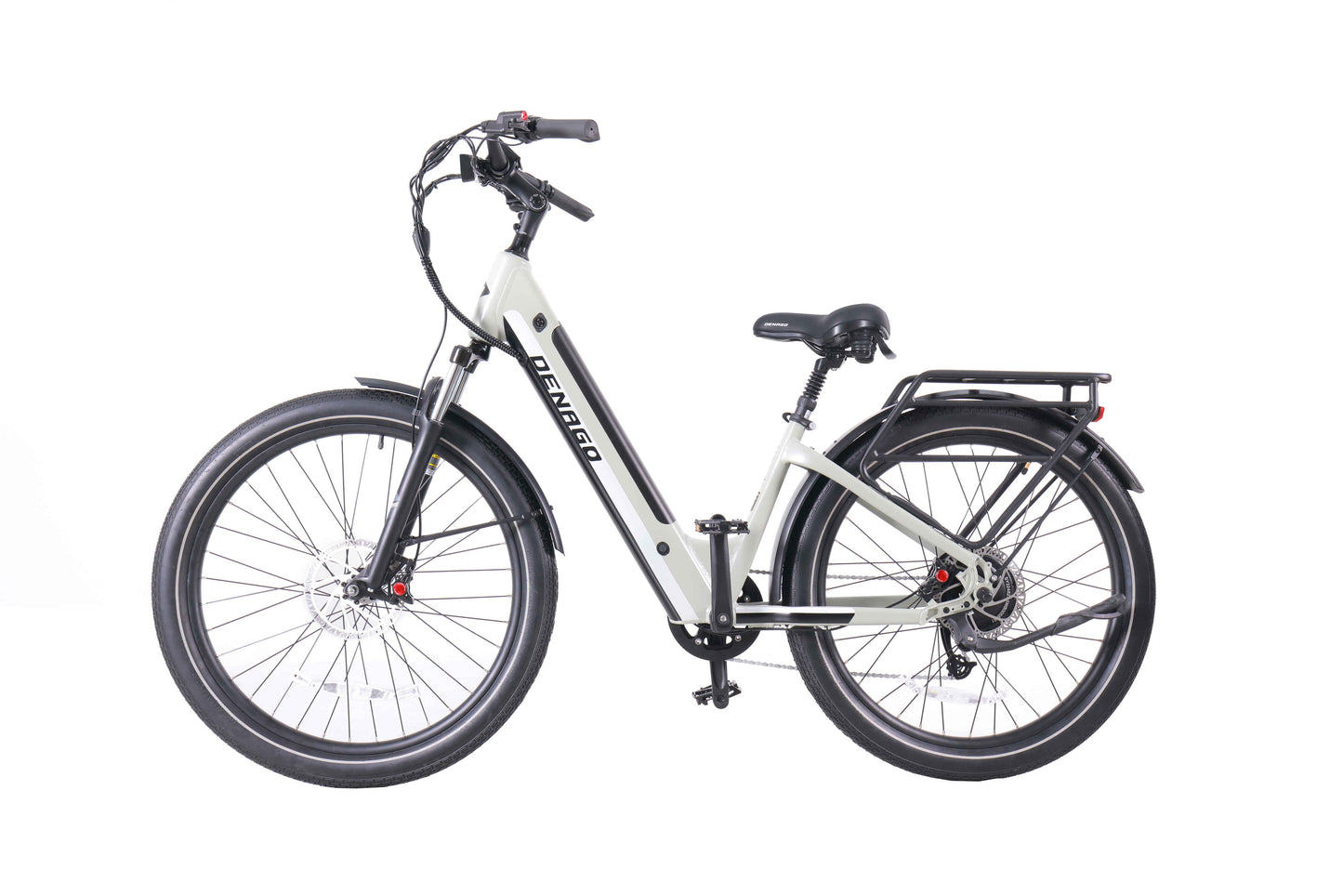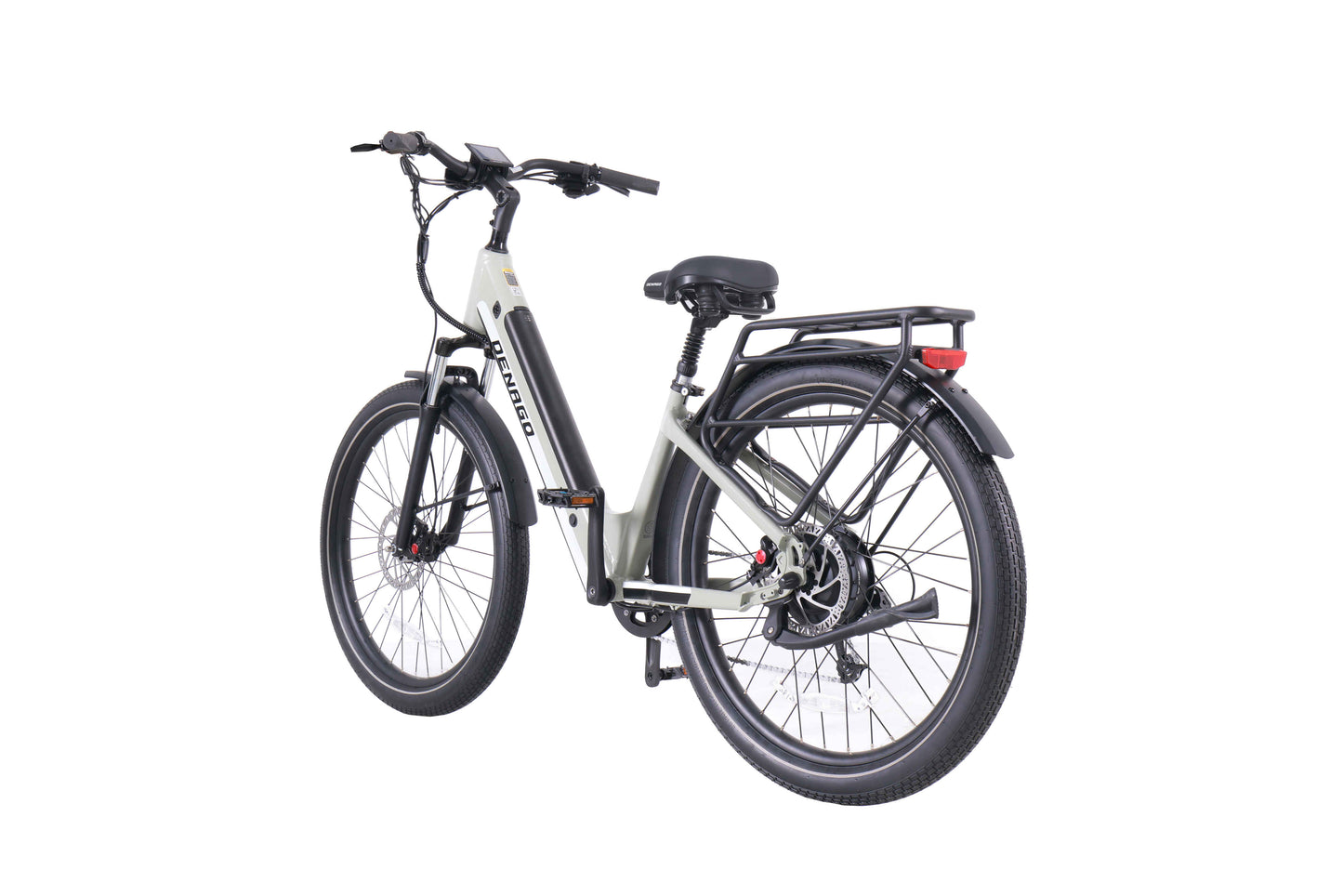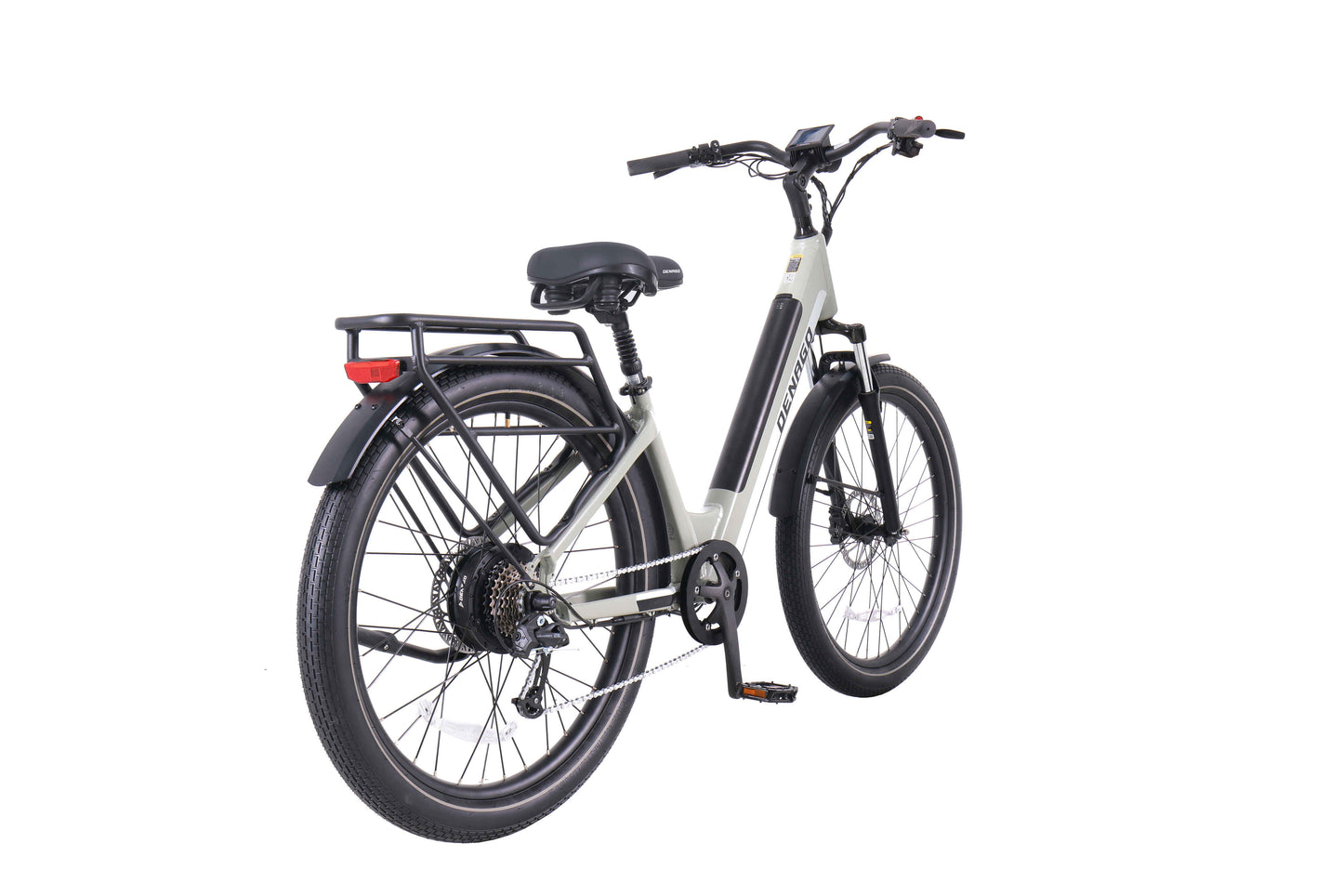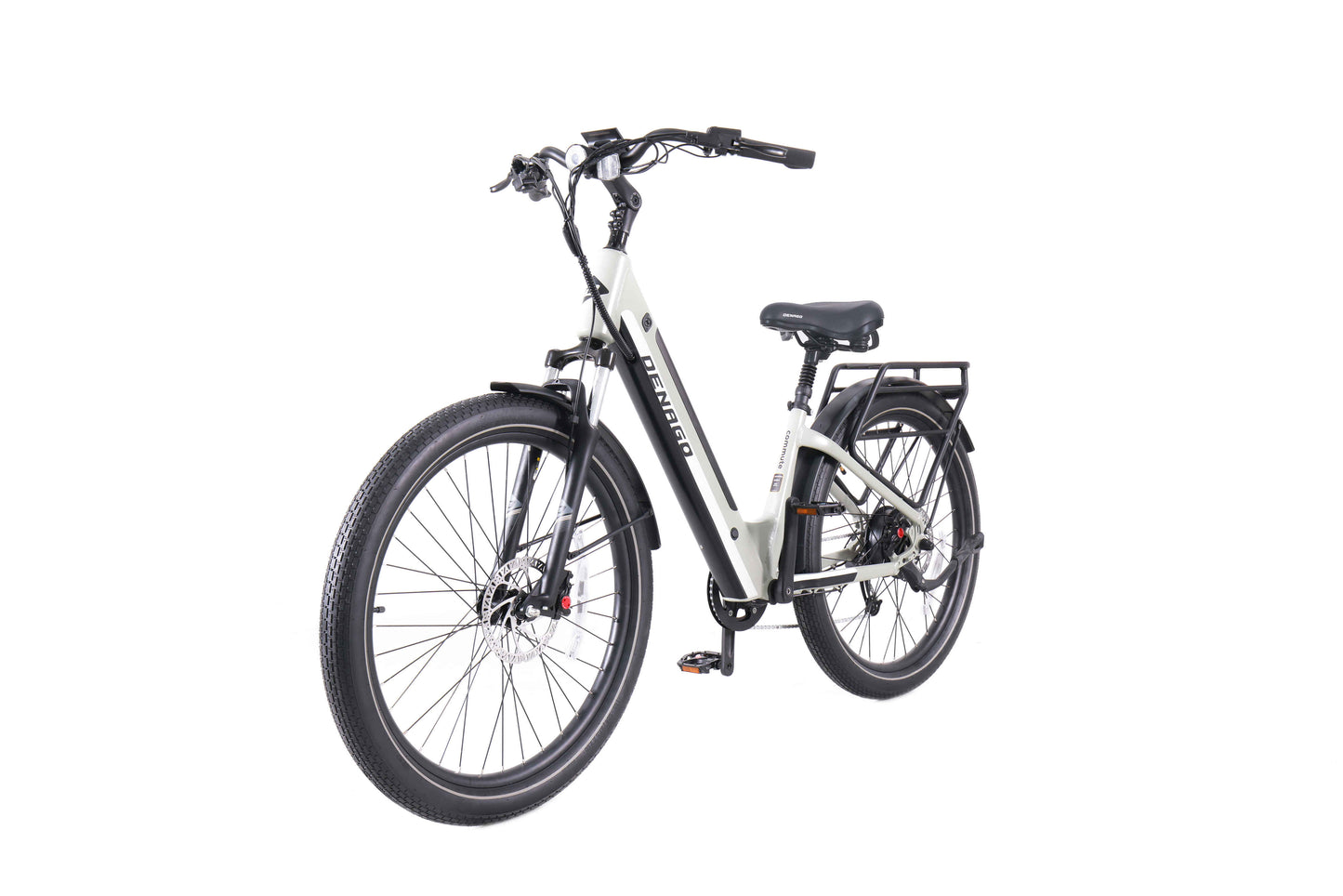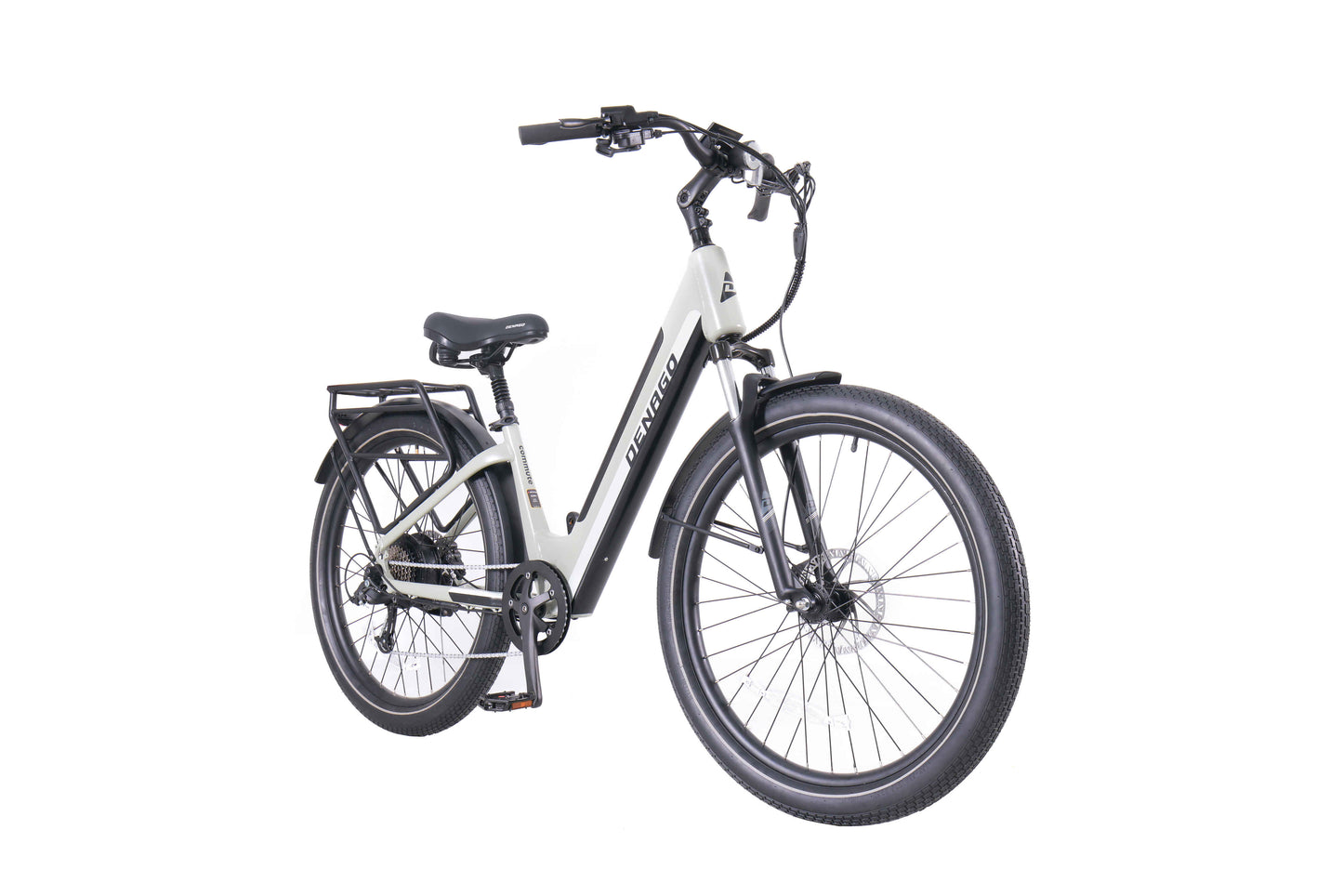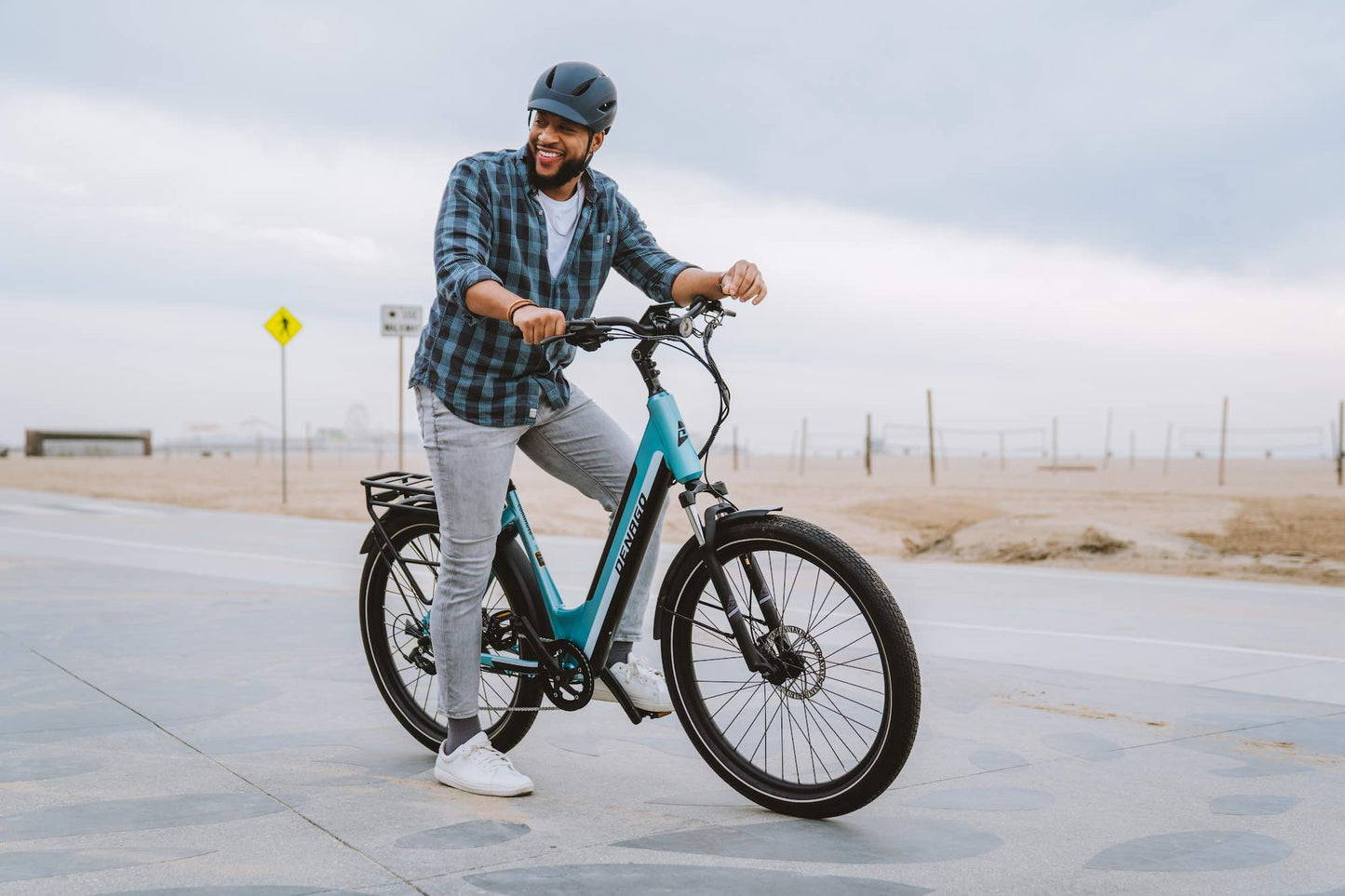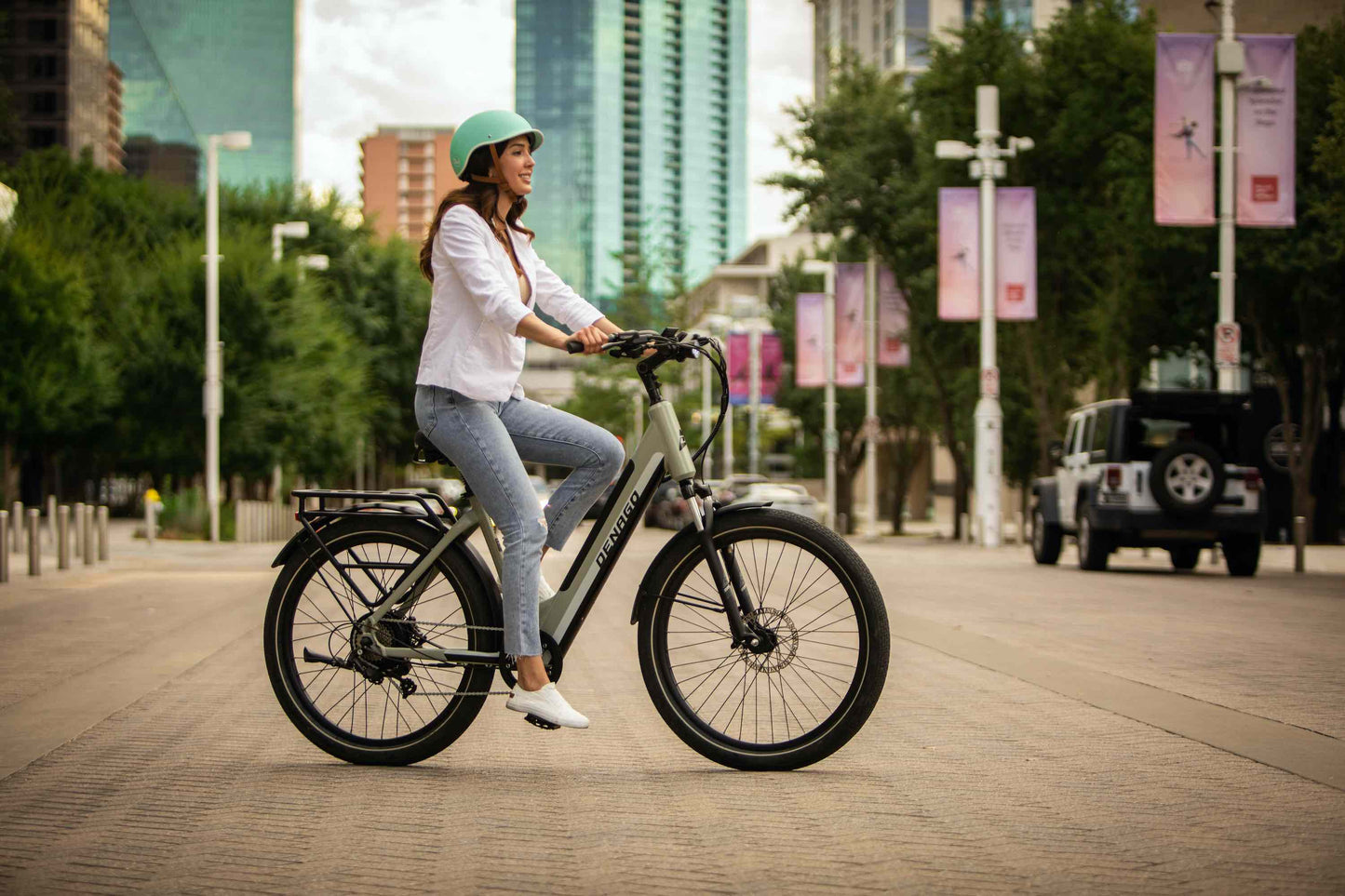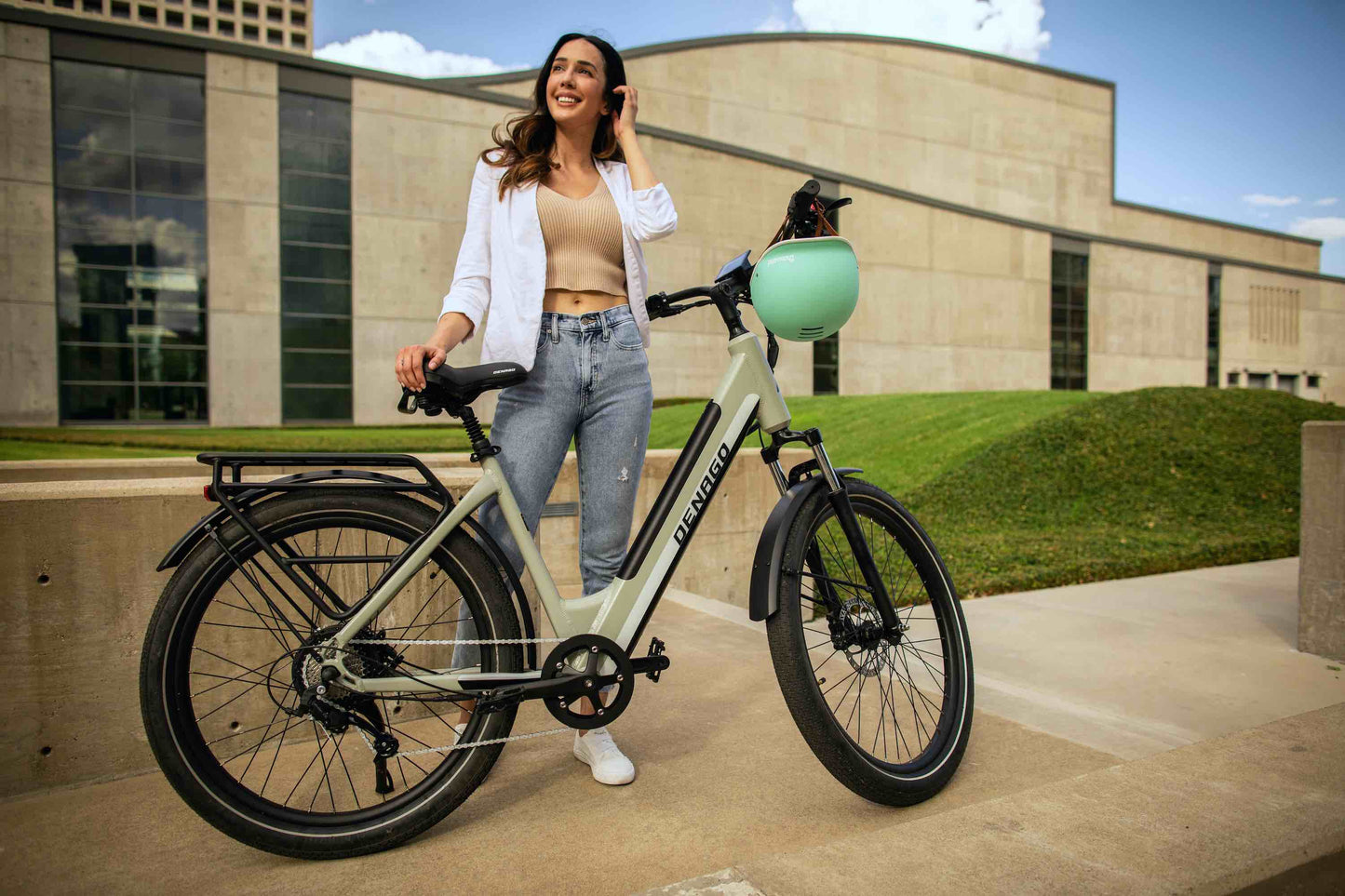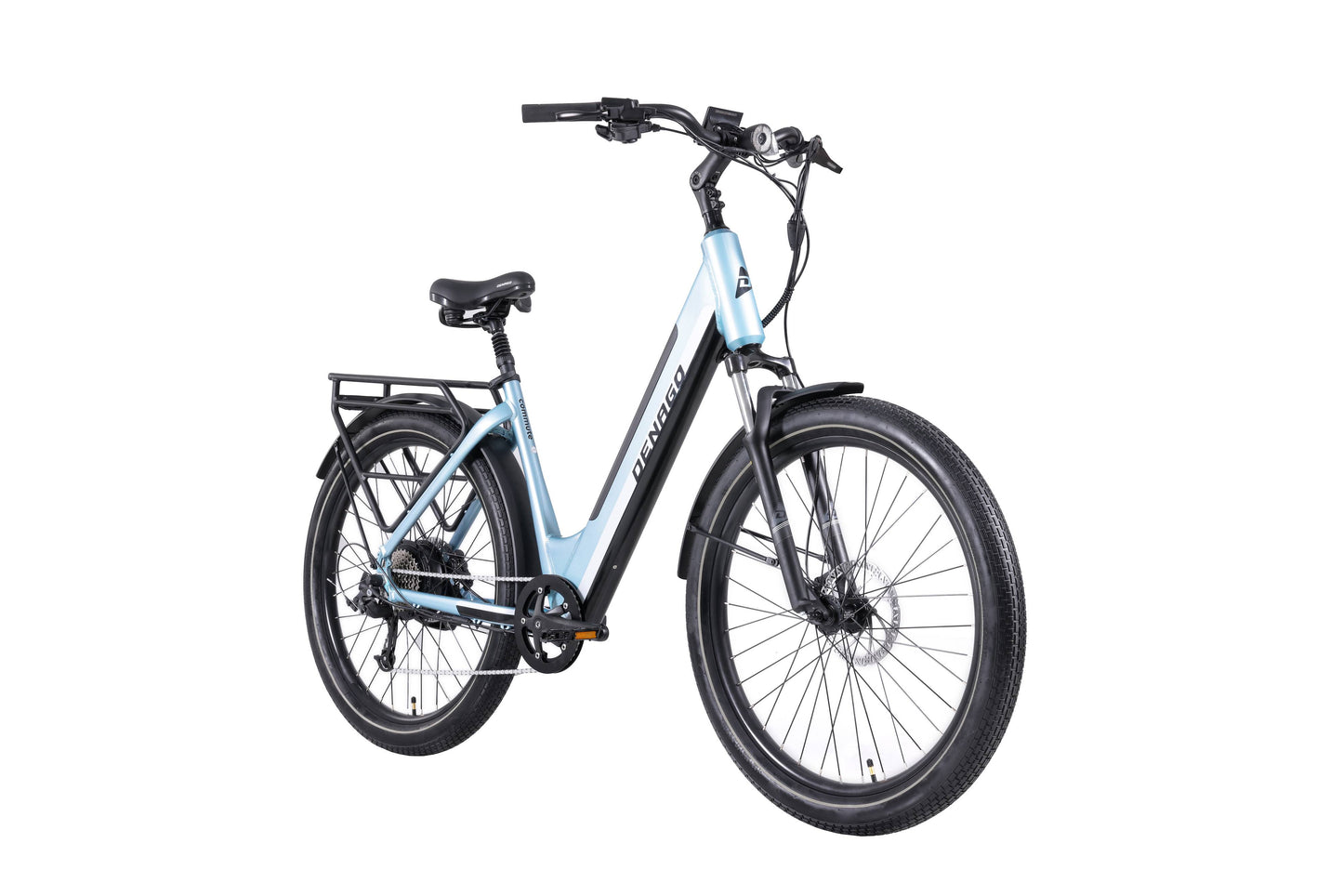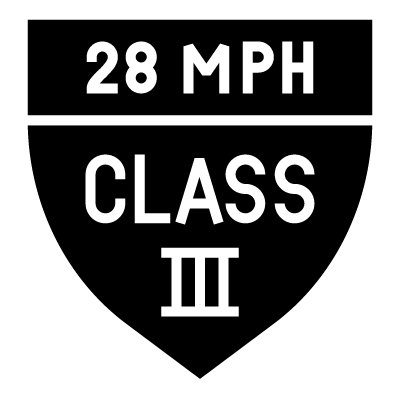 Class III eBike
Up to 28 MPH on pedal assist, and 20 MPH on throttle alone.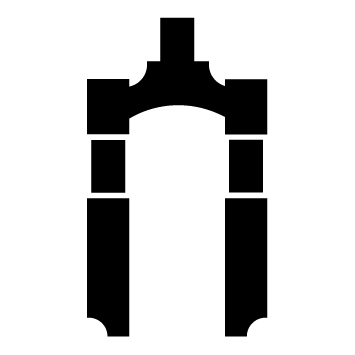 Suspension fork and seatpost
Ride with extra comfort and control.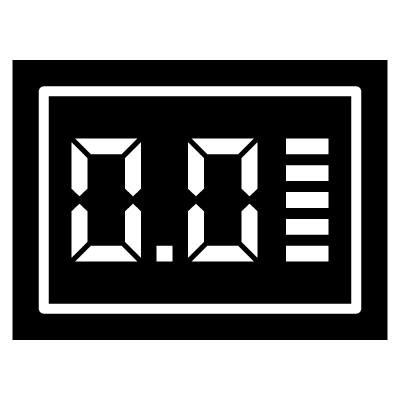 Digital handlebar display
Stats at a glance; plus PIN code feature to help keep your eBike secure.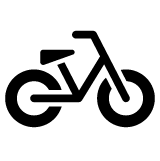 Step-thru frame design
Easy to start and stop with feet flat on the ground.

Hydraulic disc brakes
Maximum stopping power from higher speeds.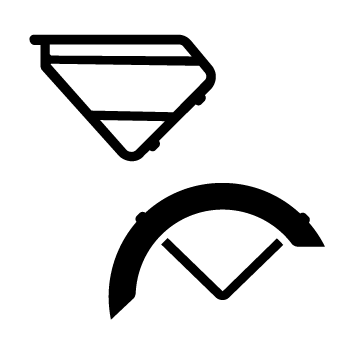 Rear rack and fenders
Stay dry on wet rides.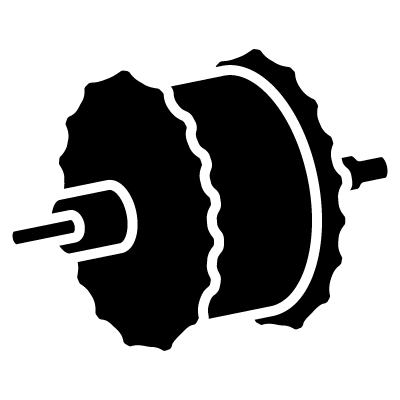 Rear hub motor
500 watt power for climbing hills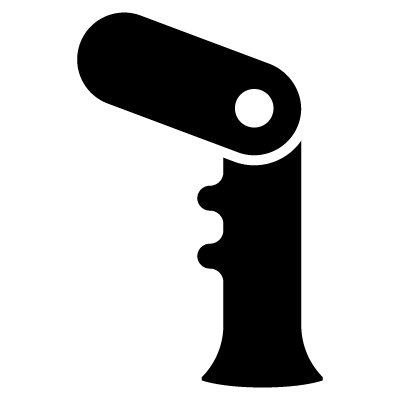 Adjustable stem
Easily adjust your riding position.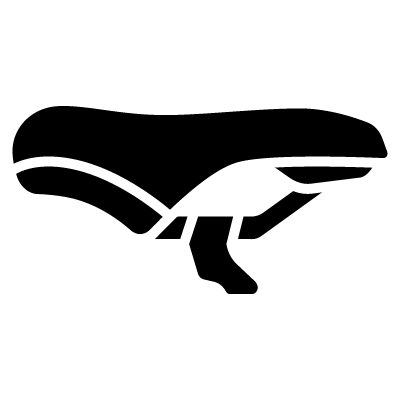 Comfort saddle
Instant comfort with wide, padded saddle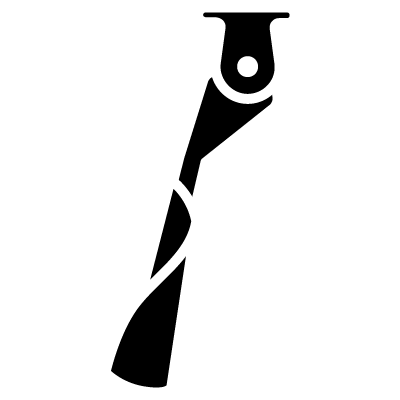 Denago Commute Model 1 Step-thru eBike Features
An urban eBike that can replace your car

Class III eBike; ride up to 28 MPH on pedal assist and 20 MPH on throttle alone.

Sleek, hidden battery

652.8 Wh lithium-ion battery integrates in the down tube for a stealthy look, and locks with a key for additional security. Built with premium LG cells.

Integrated headlight

Integrated headlight is powered by the eBike battery and controlled from the handlebar remote. There's also a rack-mounted rear red reflector - add 3 AAA battery to turn it into a powered taillight for night rides.

3 Amp fast charger

Recharge 50% faster than competing eBikes - that means you can get a full charge for the evening commute during the work day.

Digital LCD display with PIN lock

Monitor your speed, distance, battery charge, and other data on the high-resolution handlebar display. Set an optional PIN code for additional security.

500 watt hub motor

Plenty of torque for climbing hills, even when you're carrying a laptop or groceries.

45+ mile range

Enough for commuting to work or school without needing to charge during the day. Range varies based on conditions and usage patterns.

Bicycling.com's "best new commuter eBike"

Commute Model 1 was named "best new commuter eBike" by the editors of Bicycling.com and appears on their list of "18 best electric bikes you can buy right now."
Collapsible content
See Full eBike Features

Top Speed:
28 MPH on pedal assist, 20 MPH on throttle

Motor:
Shengyi rear hub motor, 48V, 500W, 50 Nm torque rating

Throttle:
Thumb throttle, left side

Display:
Denago LCD with speed, motor power, trip distance, odometer, trip time, battery charge level, and walk mode functions, plus PIN lock security feature

Sensors:
Speed, Cadence

Battery:
48V, 13.6Ah, 652.8Wh, Fully-integrated style, LG cells

Charger:
Multi-voltage 110-240V, 3A Fast Charger with USA plug

Safety Data Sheets (SDS):
For 24/7 Chemical Emergency Response and SDS Information, call 1 (800) 255-392

Download:
Denago eBike safety data sheets (PDF)
Watch: the Denago Commute Model 1 eBike
Component Highlights
Step-thru frame design

No need to swing a leg over the saddle. Ideal for shorter riders or those with poor flexibility. Commute 1 is also available in a traditional Top tube frame style.

Shop Commute Model 1 Top Tube

Suspension fork

Front suspension absorbs bumps from rough pavement or gravel roads.

Suspension seatpost and padded saddle

Riding with a sore rear end is no fun! We've included a wide, padded comfort saddle; plus a suspension seatpost to absorb road shock.

2.6" wide, eBike-rated tires

Commute Model 1 sports some of the widest tires in its class - that means more traction and rider comfort. They're punctured resistant and feature reflective sidewalls for enhanced visibility.

Microshift 8 speed drivetrain

You'll always have the right gear for uphill, flats, headwinds, or tailwinds. Wide-range 11-32 tooth cassette offers very low gear for climbing hills. There's even a built-in cover to keep your pants leg away from chain grease.

All-metal fenders

Durable all-metal fenders keep you dry in wet weather and road spray off your bike.

Included kickstand

Kickstand makes parking a snap at your home, office, or vacation spot.

Powerful hydraulic disc brakes

Faster, heavier eBikes demand more stopping power. Commute Model 1 includes hydraulic disc brakes with oversized rotors, plus motor-interrupt safety switches.

Built-in rear rack

Easily carry groceries, a laptop, or change of clothes on the included rear rack.

Adjustable stem

No need to hunch over. Adjustable-angle stem allows you to easily raise and lower the handlebar for comfort.
Collapsible content
See Full Component Specifications

FRAME AND FORK

Frame and fork:
6061-T6 Aluminum Alloy, Step-thru style

Kickstand:
included

DRIVETRAIN

Pedals:
Platform, aluminum alloy, 9/16" with reflectors

Crankset: 
Aluminum alloy, 170mm, 42 tooth chainring, built-in cover protects pant legs from the chain

Bottom Bracket: 
Sealed, square taper, 138mm, English thread

Rear Derailleur: 
Microshift, 8 speed

Cassette:
8 speed, 11-32 teeth

Shifter:
Microshift 8 speed, Rapidfire Plus

Chain:
KMC Z-Series, 8 speed, 3/32"

COCKPIT

Handlebar:
Zoom aluminum alloy, 31.8mm diameter, 660mm long

Grips:
Black rubber, lock-on style

Stem: 
Aluminum alloy w/adjustable angle, 31.8mm clamp, 1 ⅛" threadless

Saddle:
Comfort padded, black with white Denago logo

Headset:
1 ⅛", sealed, threadless

Seatpost Clamp:
Zoom, quick release

Seatpost:
Zoom suspension, 30.4mm diameter, 350mm length

BRAKES

Levers: 
Hydraulic disc with motor cut-off

Calipers:
Hydraulic disc with motor cut-off

Rotors: 
180mm, 6 bolt type

WHEELS

Tires:
Denago P-1195, 27.5 x 2.6", eBike rated, puncture resistant, reflective sidewalls

Tubes: 
Denago 27.5 x 2.6", schrader valve

Rims:
Aluminum Alloy, 36 holes, 27.5"

Hubs:
Front - 6 bolt disc, nutted, 36 holes; Rear - 6 bolt disc, Shengyi DGW22, nutted, 36 holes

Spokes: 
36 Black ED13 gauge spokes front, 36 12 gauge spokes rear

Nipples: 
Brass

WEIGHT AND PAYLOAD

Complete eBike weight, with battery:
64 lbs

Maximum rider weight:
280 lbs

Maximum cargo capacity: 
55 lbs on the included rear rack

WHAT'S IN THE BOX

Complete eBike
Lithium-Ion battery
Keys
3 Amp fast charger
Owner's Manual
Quickstart Guide
Assembly Tools (pedal wrench, multi-tool)
Front, rear, and wheel reflectors

Shipping weight: 73 lbs

COVID-19 has created specific challenges in the bicycle industry, especially around the availability of the components required to manufacture ebikes. As a result, we reserve the right to make substitutions of equivalent components of equal or better value to ensure we can consistently deliver our ebikes in a timely fashion. Thanks for understanding!
Electric Bike Report's video review of Denago Commute Model 1
How it fits
Estala is 5'9" tall

Shown riding Commute Model 1 Step-thru, L/XL

Johnathan is 6'2" tall

Shown riding Commute Model 1 Step-thru, L/XL

Anna is 5'9" tall

Shown riding Commute Model 1 Step-thru, L/XL
Collapsible content
Full geometry chart and dimensions
Denago's size and fit recommendations

Denago recommends:

Size S/M for riders 4'11" - 5'8"
Size L/XL for riders 5'8" - 6'5"
ELECTRIFIED REVIEWS ON THE DENAGO COMMUTE MODEL 1
SHIPPING, FINANCING, AND SAFETY
Always free shipping

Free standard shipping is available on all eBikes offered at Bike.com.

Fast delivery of your new eBike

Free standard shipping arrives anywhere in the 48 continental United States in just 1-5 business days.

Free subscription to Flare Premium

We've partnered with Flare to provide a free 1 year subscription to their Premium safety and tracking app with every eBike sold.

Learn more about Flare
Assembly options
Do it yourself

Assembly tools and instructions included with every eBike. Get free help from the Bike.com experts anytime.

Get help from a local bike shop via Beeline Connect

Choose a local bike shop to assemble and tune your new eBike. Additional charge applies. Learn more.

Order 2 and get free ready to ride delivery

Order 2 eBikes and we'll build and tune them, then deliver them to you ready to ride. Learn more.
PRODUCT REVIEWS
Customer Reviews
Write a Review
Ask a Question
12/22/2022
Greg E.

United States
One of the best e-bikes available!
Wow, the quality on this bike is quite good. All put together with quality parts through out. I did months of research on finding the right bike for me and my Denango Commuter fits exactly what I was looking for. Must say customer service has been extremely responsive, even on a Sunday (thanks Steve). Loving my ride. Go for it!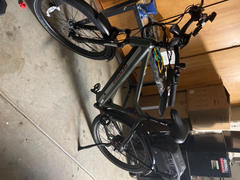 11/16/2022
Malcolm M.

United States
AMAZING Bike
I've been riding the bike over the last few weeks and have loved every second of it! Thank you!
11/02/2022
Melanie

United States
Awesome bike!
Just got my Denago Commute 1 & absolutely love it! I really liked the fat tire options but the weight of those bikes was concerning to me. My local dealer showed me the Commute 1 which has wider tires than other ebikes but maintains a reasonable weight that I could handle without assistance. It was a great option that gives stability & is a nice hybrid between a straight road/commute bike and the fat tire styles. It's well built, with an integrated light & back light up reflector, 5 levels of pedal assist, a thumb throttle that zips you across busy streets & can handle inclines, metal fenders, hydraulic brakes, front & seat suspension, & nice overall design. I've added some accessories that include a trunk rack with drop down panniers, a horn & cell phone holder. This bike provides a smooth, comfortable ride that can be used for recreational riding, trail riding, or a comfortable commute. I'm thrilled with my purchase!!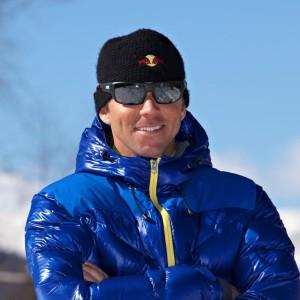 CD
10/28/2022
Chris D.

United States
Loving our Denago Bikes
We got two bikes for our family andalready we want two more! The motor is fast but so smooth and the bike is really comfortable. We couldn't be happier with these.
10/28/2022
paul c.

United States
Awesome Bike!!
These bikes are so easy to assemble. Took me about 30 minutes. They provide all the tools, which I'm stoked about because now I have a new set of nice Allen wrenches and bike wrench I didn't have before. Once assembled my wife and I took off on an epic adventure with food and water easily stored on the carriage rack in and around Truckee CA with smiles and laughing our way through the wooded trails around Truckee. So fun!!! The option for throttle and peddle assist make getting up hills super easy and fun. Thanks Denago and Bike.com...we are stoked
10/27/2022
David H.

United States
Outstanding bike!
I have had this bike out several times and it has always performed beyond my expectations. I gave up motorcycles years ago and had to give up my bikes due to physical related issues so this is a perfect replacement. It will go where motorcycles go and can squeeze into areas where only bikes are allowed and does it with stealth and comfort. I also purchased an extra battery and looking forward to needing it. 15-25 miles on PAS and I still have 70+% of battery. Awesome bike!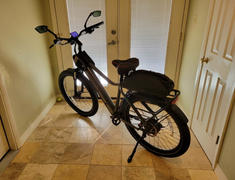 10/20/2022
Dana R.

United States
I'd sell my car if weather wasn't a thing
Confession: this bike caught my eye because I my name is Dana and I thought the brand was DanaGo! This is my first eBike: I'm a 64 year old granny with sketchy knees and out of shape. This bike flattened the steep hills near my house. I can't imagine wanting to go above level 2 with ordinary riding. Level 3 is like a turbo-boost. Fun-- but it's on the outer limits of what I need even on hilly roads. 4 and 5? Yikes! Too much for me. My height is 5'8" and so I'm on the cusp of the brake-over height for a larger frame bike. I went for it and it is really big. I have the seat down at its lowest and I have long legs. However, my leg isn't fully extended there but I prefer to reach the ground easily. My husband is my height but has short legs and it is too tall for him. I appreciate the walking mode because it is so easy to walk up the ramp into the bed of my pickup truck. The handle at the back of the seat is a nice perk. The bike itself is really substantial and heavy-duty and feels very safe and strong. I had the "white glove service" and it was delivered to my door. It was wrapped so heroically the truck driver thought it was a motorcycle. There was a mountain of cardboard and bubble wrap and a huge pallet to dispose of after so keep that in mind when deciding how to get it. But, it was really nice to have it all ready to go after the first charge. I do love this bike. I really feel secure and confident the way it handles. Really intuitive and responsive for someone who hasn't had one before. Feels like a real bike when riding. I can't imagine anything that would make it better except maybe a "wide load" seat option. It's plenty comfortable but that's the only improvement I could wish for. And, my god, but it is beautiful! Shout-out to the guy from Denago who talked me through everything.
10/20/2022
Brett N.

United States
Dnago Commute
I rode a City 1 for several months and loved it. I recently bought the Commute as I mostly use it for riding to work. The wider tires, suspension fork and post and the burly rack really make this bike great. Especially useful are the built-in headlight and taillight...no more forgetting them early in the morning!
10/16/2022
Jillian S.

United States
Excellent service
Excellent service. Love the bike and how it handles. Highly recommend to all who want to ride and experience the outdoors.
10/05/2022
Herbert H.

United States
Insanely Cool addition to our Distillery Campus
Our distillery campus in the heart of Kentucky is a 100 acre 16-building facility. Our Denago has been invaluable in saving us time and energy getting around, building-to-building. It's quick, safe, and beloved by our employees and we plan to acquire more! Especially on those hot, humid summer days in Kentucky, the bike is perfect for short, quick trips or longer rides into town. Ease of use is great, rides smooth, and it is amazingly comfortable. We used to tool around in a golf cart or ATV, but this bike has quickly become the favorite way to get out to the rickhouses, over to bottling, or across our distillery campus. We can't wait to get more for our team!
09/28/2022
Chris B.

United States
Well built, a lot of fun, a lot of power.
Overall this Denago Commuter one has been A-blast to ride. The acceleration is much more than I expected, and the bike is a solid bike to ride. I love the looks of it and enjoy the experience whenever I'm riding it. The customer service and follow up is phenomenal.
09/27/2022
Rosanne B.

United States
09/27/2022
Chris W.

United States
Well built, a lot of fun, a lot of power.
Overall this Denago Commuter one has been A-blast to ride. The acceleration is much more than I expected, and the bike is a solid bike to ride. I love the looks of it and enjoy the experience whenever I'm riding it. The customer service and follow up is phenomenal.
09/19/2022
Dave D.

United States
Great eBike
I love this eBike. The low step thru frame makes it easy to get on and off the eBike but with the wider tires, front suspension and suspension seat post; I want to keep riding! The integrated front light is very bright and provides great light on the bike path for riding home while the rear taillight is equally as bright. I have not carried anything on the rack just yet, but the rack is very solid. The included fenders are a great bonus feature. I'm looking forward to putting more miles on this eBike.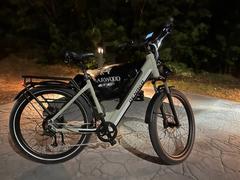 CALIFORNIA PROPOSITION 65 WARNING
---
This product can expose you to chemicals including (Cadmium, Phthalates, Bisphenol, Nickel (Metallic), di(2-ethylhexyl)phthalate "DEHP"), which is known to the State of California to cause cancer and/or cause birth defects or other reproductive harm. For more information, go to www.P65Warnings.ca.gov.